About this Book
THE KNIGHTS OF MALTA WERE THERE WHEN JERUSALEM FELL, THEY WERE THERE WHEN THE TEMPLARS DISINTEGRATED, AND THEY'RE THERE NOW . . . WAITING IN DETROIT FOR A BORN-AGAIN CON MAN TRYING TO SAVE HIS FAMILY.
Former con man Fletcher Doyle is finally home after six years in the pen. He's working a menial job, regaining his bearings in the world, and trying to revive his relationships with his wife and twelve-year-old daughter. No easy feat.
But when Fletcher and his family go on a mission trip to Detroit—in the company of the condescending church leader who also happens to be his landlord—Fletcher finds his old life waiting for him. Within hours of arriving in the city, he's been blackmailed into doing a job for a mysterious criminal who calls himself The Alchemist.
A series of relics hidden by the Knights of Malta, as ancient as they are priceless, are in the sights of The Alchemist. What he needs is a gifted grifter with a background in ecclesiastical history . . . what he needs is Fletcher Doyle.
Between hiding his reawakened criminal life from his wife and trying to hide her from their relentless landlord, Fletcher is ready to give up. But when his family is drawn into the dangerous world he can't shake, Fletcher is forced to rely on his years in the game to save the only people who mean more to him than the biggest con in history.
Publication Date: July 7, 2015
About the Author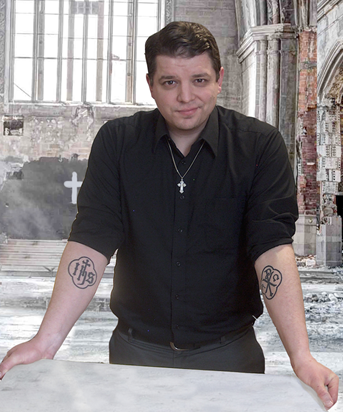 Called "the suspense author everyone is talking about" by Family Fiction Edge magazine, Zachary Bartels is the author of critically acclaimed supernatural thrillers. An award-winning preacher and Bible teacher, Zachary has been serving as pastor of Judson Baptist Church in Lansing, Michigan, for ten years. He enjoys film, fine cigars, stimulating conversation, gourmet coffee, reading, writing, and cycling.
His debut novel, Playing Saint, has been called an "intrigue-filled thriller" (Library Journal) and "a page-turner from the very beginning . . . gripping and realistic" (RT Book Reviews). His newest book, The Last Con (HarperCollins Christian Fiction, 2015) has met early positive reviews. He lives in the capital city of a mitten-shaped Midwestern state with his wife Erin and their son.
My Review
I had very high hopes for this book. Zachary Bartels is a new author for me so I didn't know what to expect.
Although the idea behind the book was intriguing, I was disappointed in the story. I felt that the author spent way too much time explaining the life of a grifter. He went into great detail about marks, pegs, and other facets of con jobs. Although interesting at first it quickly became to much for this reader.
The characters were okay. I did feel bad for Fletcher as he had to deal with Brad. I think the author did bring to light a problem for ex-convicts once they leave prison. Fletcher had to deal with the constant reminders of his past as well as criticism from Brad. And although I think his prison conversion was sincere he failed to get a Christian mentor or accountability partner once he was freed. He quickly slipped back into his old life.
I really wanted to enjoy this story but it just didn't work for me. I hope you will read other reviews. Other reviewer may have enjoyed the story. This one was just not for me. If the opportunity arises I'll definitely try this author again.
Disclaimer:  I received this book free from the publisher in exchange for an unbiased and honest review. The opinions I have expressed are my own. I am disclosing this in accordance with the Federal Trade Commission's 16 CFR, Part 255.